How much do we trust posts on website forums?
By peter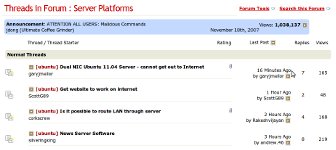 A Danish Minister approves an ad-agency to pose as real users and stuff a forum with bogus posts to kick-start it. I'm appalled, surprised at my own ignorance and worried about the lack of credibility of even government-funded sites.
Today there is an article in Politiken (a Danish newspaper) about the Danish Fødevareminister (== "Minister of Food"?) having hired an advertising agency to create a campaign for healthier fast food. The advertising agency created a website and stuffed it with bogus postings posing as normal users. It was revealed that 20% of all postings on the site were from these same people. This was "to kick-start the campaign". Compounding the issue, in an evaluation of the campaign, these 20% bogus postings were included as real user feedback.
The Minister of Foods, Henrik Høegh (V), has allegedly been aware of this going on, but can't see any problem with it.
Seriously? I'm surprised this isn't illegal. Only time will tell if it will have any repercussions for him.
I am also confronted with my own high level of naivité: "Hey, if users post to a forum, they are real live users not affiliated with the site, unless explicitly stated otherwise." Of course I know ratings systems are stuffed, late-night TV interviews aren't real (!) and things like this take place - at least on dubious websites. But I'm pretty sure I'm not enough on the lookout for it when I view forums online. Are you?